Biology
Nothing in life is to be feared, it is only to be understood. Now is the time to understand more, so that we may fear less.
― Marie Curie
Science is the subject of discovery, investigation, proving and disproving, hypothesising and predicting – finding the answers to our questions and exploring the unknown. Science can make sense of the most complex things, yet can show the complexities of that which appears simple. It can also lead us to ways of thinking that we have not experienced – it can transcend current boundaries and take us to new worlds. Here at MMAP, we value this discipline and the pathways opened for our pupils through experience with scientific thought and experimentation. At KS3, we incorporate this thinking into project work, and at KS4 we explore the world of Biology – the science of life.
Believe, Achieve, Exceed:
In Science, we contribute to the BELIEVE curriculum by addressing SMSC/BV and Careers within different topics. For example, when studying genetics, we discuss the ethics surrounding designer babies and genetic modification, as well as explore careers in genetic engineering and research. Science contributes to the ACHIEVE curriculum by being a core subject. We ensure that all our KS4 pupils are able to study Biology at GCSE level and are given the opportunity to achieve this qualification at the end of year 11. Finally, we contribute to our EXCEED curriculum through developing the critical thinking skills of our pupils through exposure to interesting scientific debates/discoveries surrounding the health of our planet and its living things, biotechnology and health and disease.
KS4:
In KS4, our pupils remain with us for their GCSE studies. We study AQA GCSE Biology throughout the two years. Please see the plan below for the order of topics studied:
Year 10
Term 6 - Cell biology
Cell structure.
Prokaryotes and Eukaryotes.
Microscopy.
Cell specialisation and differentiation.
Stem Cells.
Culturing microorganisms.
Term 1 - Cell biology & Organisation
Cell cycle.
Types of transport.

Hierarchy of organisation.

Digestive system.
Enzymes.
Circulatory system.
Term 2 - Organisation
Non-communicable diseases.
Cancers.
Plant organs and tissues.
Plant transport.
Term 3 - Infection and response
Communicable diseases.
Viral bacterial and fungal diseases.
Protist diseases.
Human defence systems.
Vaccination.
Antibiotics.
Painkillers and drug development.
Term 4 - Infection and response & Bioenergetics
Monoclonal antibodies.
Plant disease.
Plant defence responses.
Photosynthesis.
Rate of PS.
Limiting factors of PS.
Uses of glucose.
Aerobic respiration.
Anaerobic respiration.
Exercise metabolism.
Term 5 - Homeostasis
Homeostasis.
The brain.
The eye.
Control of temperature.
Endocrine system.
Glucoregulation.
Osmoregulation.
The kidney.
Year 11
Term 6 - Homeostasis
Human reproduction.
Plant hormones.
Mock revision.
Term 1 - Inheritance, variation and evolution
Sexual and asexual reproduction.
Meiosis.
Sex determination
DNA
Genetic inheritance.
Inherited disorders.
Term 2 - Inheritance, variation and evolution
Genetic engineering.
Cloning.
Mock revision.
Term 3 - Classification of living organisms & Ecology
Classification systems.
Communities.
Biotic factors.
Abiotic factors.
Distrubution of organisms.
Adaptations.
Trophic levels.
Nutrient cycles.
Biodiversity and its maintenance.
Sustainable practices.
Term 4 - Examination revision
Term 5 - Examination revision
Exam information
The assessment for AQA GCSE Biology takes place through two written examinations, the structures of which are: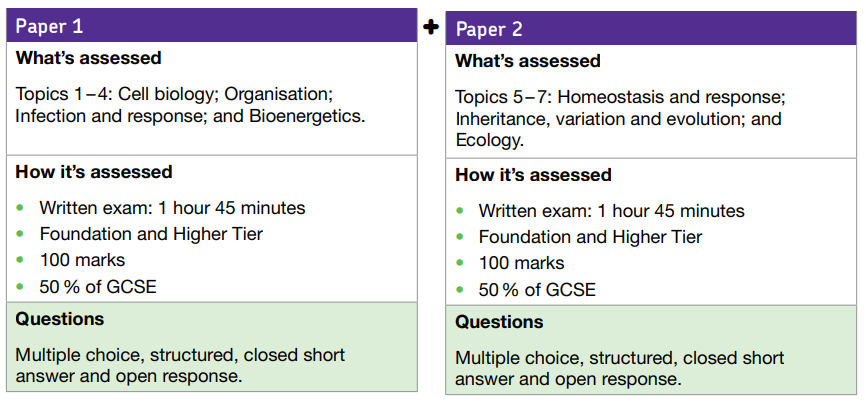 (Taken from the AQA GCSE Biology Specification)